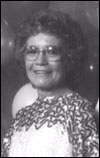 The Roxie L. Cole Leadership Award is our way of recognizing
community leaders that make all the difference!
The Central States ACM is holding open submissions for our next honoree. This can be a person who works regularly within an access center or someone who is out blazing new trails of community involvement and leadership. It's our time as members of the ACM to let these hard working community leaders and movers know that we appreciate all the dedication they have put into our communities.
The award is given to the person who exemplifies the spirit of access television in the community. This person is a leader who has effectiveness, initiative, energy, skill, authority and vision and who have made contributions in their community. This person can be a Volunteer, Producer, Board Member, Staff Member, or Community Activist.
Roxie L. Cole was very dedicated to PEG Access in the Central State Region as well as on the national level. She started public access in Dayton, Ohio in 1978, and is known to many as the Mother of public access. She was a vital part of the Alliance for Community Media. Roxie passed away in 1994 leaving us with fond memories of her drive and vision to keep community media alive and well in our respective communities.
The 2018 Roxie L Cole Leadership award goes to John Hampu from Alliance City Schools, OH.
John has served as a show host for Alliance Cable Ch.10/22 for the past 20 years. He hosts a variety of community shows throughout the year including AroundTown, Focus on Flyers, Sup's On, It's My Alliance, Takin' it to the Streets, Chamber Cornerstone, Mount Matters, Senior Salute, Session with a Senior, Veterans' Voice, Chamber Students of the Month and many more. Having served as an Alliance City Schools teacher, coach and administrator prior to his current careerin business, makes him well connected in both the schools and community. He reaches out not only to people in the news, but people who are quietly making a difference. John He is equally talented interviewing both adults and youngsters and is always well prepared for his weekly programs.
Downtown Alliance Commission, member of First Friends Church, Cable Ch. 11 Board of Directors. John is also the founder and leader of Classic Rock and Roll with the John Hampu Band, which is a 9 piece classic rock band, playing music from the 60's, 70's and 80's. Although they are booked for many weddings, class reunions and other parties, they also often perform for fundraisers or non-profits such as the Alliance Firefighters Toys for Tots, Relay for Life, and community members fighting illnesses.
John handles all his roles as husband, father, grandfather, manager and host all with professionalism and patience. He is extremely reliable, has strong faith and is good natured, working well with both the staff and students at Ch. 1022. He treats all who work with him fairly and respectfully. He has faced challenges in his career and personal life but chooses to learn from the challenges and move on. On a day to day basis, our schedule and staff shortages may affect his shows but he remains calm and patient.
John's best contribution to the Community Media movement has been his role in the Cable station from it's inception. He was supportive of the original instructor (Dick Claflin) and helped get the Community Challenge programs(our first local shows) on the air. He has stayed with the program, adding to his involvement and number of shows produced. In 2003, the Alliance School Board was considering dropping the Broadcast Arts Program. John fought to keep the program in place and recommended hiring me as the teacher and Channel director. We have worked together as a team since then to grow the program and station. The citizens of Alliance who subscribe to Spectrum Cable 1022 are appreciative of the 8 - 10 local programs produced each week and love seeing their friends and families highlighted. Additionally he recently spearheaded fundraising efforts for The John Weitzel "Days of Glory" Scholarship which is awarded through the Alliance High School Foundation. John's voice is well known throughout the city as he volunteers to announce various performances in town and is the "on-hold" voice for businesses.
How To Nominate Someone
In order to nominate a person; You must submit a letter via email with the following information: your name, mailing address, phone number and email address of both the nominator and the nominee:

And please answer the following questions, limit applications to no more than two pages.

How has this person served the community in relation to Community Media?
What leadership role(s) have they taken in their community?
How does this person handle challenging issues?
What has been this person's best contribution to the Community Media movement?

Letters should be sent to the board at [email protected] by Friday, October 7, 2022.
Former Roxie L. Cole Leadership Award Winners
1995 Dirk Koning, Grand Rapids, Michigan

1996 Ric Hayes, Ft. Wayne, Indiana

1997 Charles Williams, Dayton, Ohio

2000 Martha Schmidt, Ann Arbor, Michigan

2001 Gail Robinson, Paducah, Kentucky

2001 Joyce Miller, Cincinnati, Ohio

2002 Tim Goodwin, Grand Rapids, Michigan

2003 Tomas Chavez, Ann Arbor, Michigan

2004 Homer Baldwin, Wadsworth, Ohio

2005 Robert Harris, Cincinnati, Ohio

2006 Edith Doil, Midland, Michigan

2008 Frank Jamison, Kalamazoo, Michigan

2011 Patricia B. Heitman, Columbus, Ohio

2012 Bob Ihrie, Fort Wayne, Indiana

2013 Laurie Cirivello, Grand Rapids Community Media Center, Michigan

2014 Melissa Mill-Constantine, from Dayton Access Television, Ohio

2016 Harry "Hap" Haasch- Public Media Network, Michigan

2017 John Wasylko, Brunswick the BEAT (Brunswick Educational Access Television), Ohio

2018 John Hampu, Alliance, Ohio