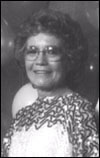 The Roxie L. Cole Leadership Award is our way of recognizing
community leaders that make all the difference!
The Central States ACM is holding open submissions for our next honoree. This can be a person who works regularly within an access center or someone who is out blazing new trails of community involvement and leadership. It's our time as members of the ACM to let these hard working community leaders and movers know that we appreciate all the dedication they have put into our communities.
The award is given to the person who exemplifies the spirit of access television in the community. This person is a leader who has effectiveness, initiative, energy, skill, authority and vision and who have made contributions in their community. This person can be a Volunteer, Producer, Board Member, Staff Member, or Community Activist.
Roxie L. Cole was very dedicated to PEG Access in the Central State Region as well as on the national level. She started public access in Dayton, Ohio in 1978, and is known to many as the Mother of public access. She was a vital part of the Alliance for Community Media. Roxie passed away in 1994 leaving us with fond memories of her drive and vision to keep community media alive and well in our respective communities.
The 2017 Roxie L Cole Leadership award goes to John Wasylko from Brunswick Channel 22- the Beat.

Since 1998, John Wasylko has managed Brunswick's award-winning Channel 22 – the BEAT (Brunswick Educational Access Television). During this time, John has secured over $500,000 in public funds (through business sponsorships, corporate grants, etc.) to cover all operational/staff costs for the channel (which does not receive cable access or school support and is totally self-funded).

Additionally, John has mentored hundreds of students (grades 6-12) in becoming "backpack journalists" as members of the nationally recognized BEAT Video Program (www.thebeat22.com), which John created in 2000 and has served as advisor to this day. The students' videos are featured prominently on Channel 22 – the BEAT.
Since 2000, the nationally-recognized Brunswick Schools BEAT Video Program has produced over 3,000 print/web/video news stories highlighting Medina County education, community and non-profit organizations and efforts. The BEAT Program has evolved into a premier student "news bureau" that promotes the positive side of Medina County.
How It Works: Each year, over thirty students (grades 6-12) receive a unique opportunity to become BEAT "backpack journalists", by producing one print/web/video story a month, or 250+ print/web/video stories annually. These pieces are sent to Medina County and Northeast Ohio news sources weekly, who have embraced the Program. As a result, over 70% of BEAT stories submitted are published by the media, who struggle to cover areas because they have fewer on-staff reporters. They greatly appreciate the high-quality, accessible content the BEAT provides.

BEAT stories are featured regularly in both local newspapers and on Northeast Ohio TV news channels. Additionally, all BEAT stories and videos are featured on the students' own website (www.thebeat22.com), which generates over 50,000 hits monthly, as well as Cable Channel 22 – the BEAT (Time Warner/WOW Cable), which the students manage.
The BEAT is a model program – connecting students with their communities in a constructive way, which increases positive news coverage about Brunswick/Medina County, and reinforces a positive perception of our area both locally and regionally.

John saw the need to engage Medina County youth in their schools and communities. He used Cable Channel 22 and the BEAT Video Program as vehicles to do this. John created the BEAT Video Program as a means of teaching students the skills needed to create responsible print/video/web communications. Each student is mentored in an extensive journalism/TV production class (offered each weekend by John and student staff members). Afterwards, BEAT students are encouraged to uncover stories within their communities – stories which are of interest to themselves, and their viewers. Each BEAT student is responsible for creating six print/video stories annually (on deadline) in order to remain in the Program.

The BEAT Program enhances the quality of life in Medina County by shining a media spotlight on our excellent schools, community and non-profit organizations. Often, the media dwells on the negatives – which can, over time, create an inaccurate perception of our community. The BEAT Program strives to "balance the scales", and provide close to 200 examples (stories) annually of all that is good about our area. As a result, the BEAT Program enhances a positive perception of Medina County – which impacts those who live in our area as well as throughout our region.

Additionally, BEAT stories spotlight Medina County nonprofit organizations, many of which do not have the time, manpower or expertise to do so themselves. Most recently, the BEAT produced all print/video content promoting the Medina County Community Funds' Browns/Steelers Fundraiser, which helped to increase visibility and attendance for the event. Also, the BEAT has served Bluecoats, Hospice, Medina Creative Housing, Brunswick Eagles, Rotary, Oaks Family Care, Brunswick Optimists, Junior Leadership Medina County, Children's Center of Medina County, Make-A-Wish, Medina County Library, Medina County Career Center, MCDAC, Hands Foundation, and local clergy among many others.
Finally, BEAT connects students with their communities, builds community service, and gives students the opportunity to make a difference in the areas where they live.

John has created an enduring, out-of-the-box way to connect youth to their communities. The BEAT Video Program has motivated Brunswick youth to write stories and create videos not only about their schools, but also county activities, non-profits, churches, etc. These stories, shared with Northeast Ohio media, are embraced by the media. As a result, Medina County's image is enhanced. People feel better about our youth, because John's program spotlights them.
How To Nominate Someone
In order to nominate a person; You must submit a letter via email with the following information: your name, mailing address, phone number and email address of both the nominator and the nominee:

And please answer the following questions, limit applications to no more than two pages.

How has this person served the community in relation to Community Media?
What leadership role(s) have they taken in their community?
How does this person handle challenging issues?
What has been this person's best contribution to the Community Media movement?

Letters should be sent to Alysha Schlundt-Bodien at Aschlundt-bodien@a2gov.org by Saturday, October 6, 2018.
Former Roxie L. Cole Leadership Award Winners
1995 Dirk Koning, Grand Rapids, Michigan

1996 Ric Hayes, Ft. Wayne, Indiana

1997 Charles Williams, Dayton, Ohio

2000 Martha Schmidt, Ann Arbor, Michigan

2001 Gail Robinson, Paducah, Kentucky

2001 Joyce Miller, Cincinnati, Ohio

2002 Tim Goodwin, Grand Rapids, Michigan

2003 Tomas Chavez, Ann Arbor, Michigan

2004 Homer Baldwin, Wadsworth, Ohio

2005 Robert Harris, Cincinnati, Ohio

2006 Edith Doil, Midland, Michigan

2008 Frank Jamison, Kalamazoo, Michigan

2011 Patricia B. Heitman, Columbus, Ohio

2012 Bob Ihrie, Fort Wayne, Indiana

2013 Laurie Cirivello, Grand Rapids Community Media Center, Michigan

2014 Melissa Mill-Constantine, from Dayton Access Television, Ohio

2016 Harry "Hap" Haasch- Public Media Network, Michigan

2017 John Wasylko, Brunswick the BEAT (Brunswick Educational Access Television), Ohio

2018 Make your submission