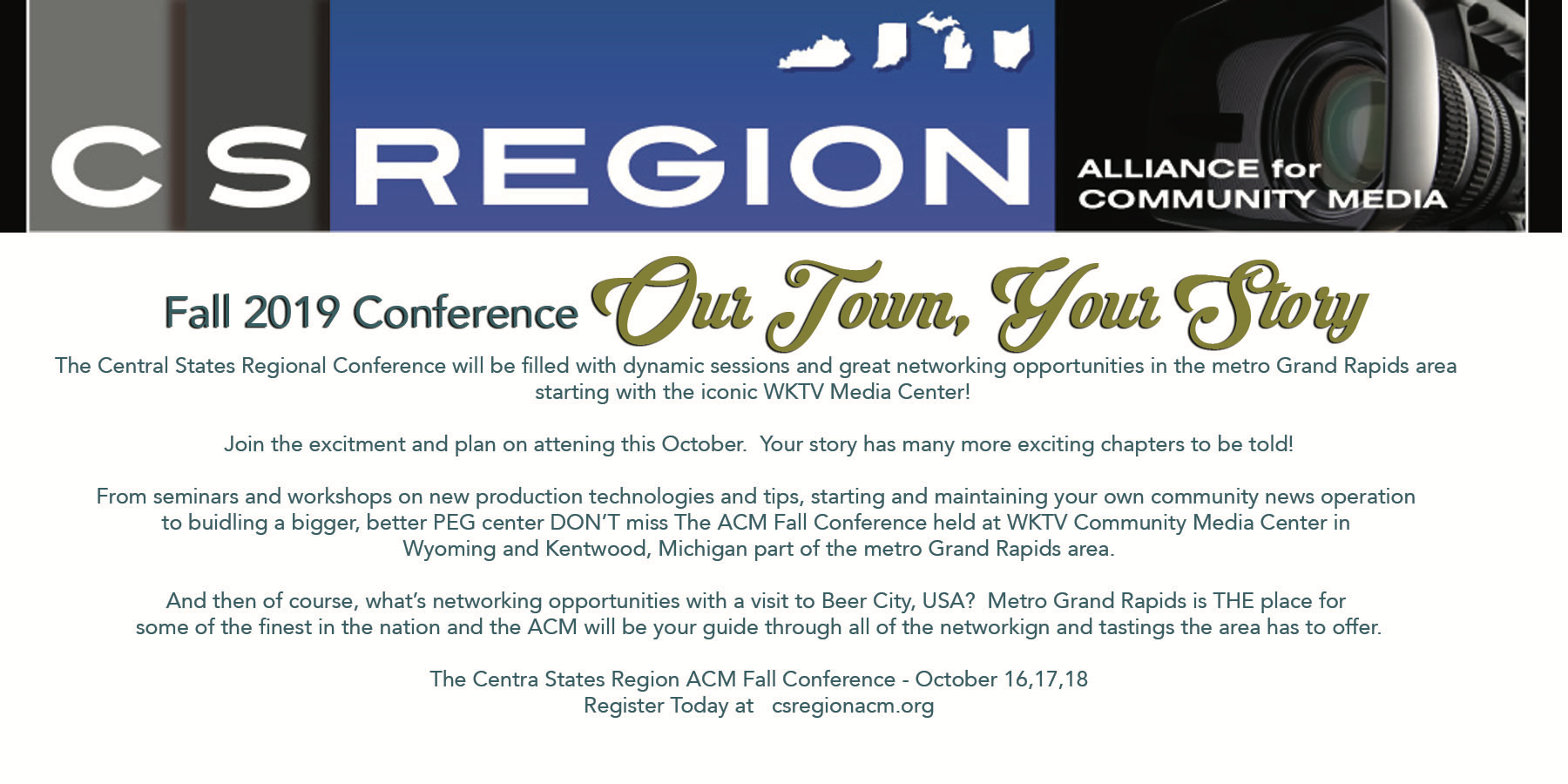 Mark your calendars to save the date October 16-18, 2019 for the Annual Conference, Trade Show & Philo Festival of Media Arts Award Ceremony in Wyoming/Kentwood, Michigan! Hosted by WKTV!  We hope to see you all there! Networking opportunities will include:
For tickets to the 2019 Conference, Trade Show and Philo Festival Awards Ceremony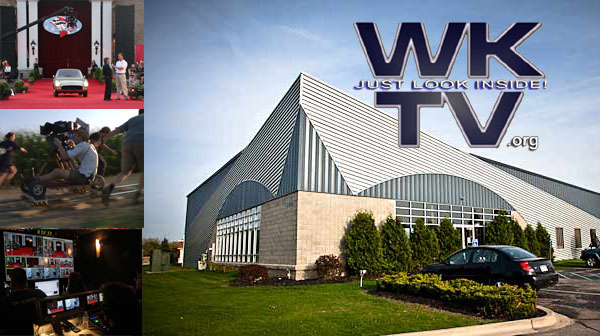 VOICES is WKTV's oral history project, now entering it's 3rd year.  VOICES takes place in a fully restored Airstream trailer that is the setting for sitting down, relaxing and telling us your PEG story.  When did your PEG center start?  What were some of the milestones?  What are some of the best and worst stories of your existence.  Some PEG facilities are approaching their 50th anniversary, so  whatever your age, your PEG story is part of the WHOLE story.  The story of communication; of community; of bridging the digital divide; the story of PEG is the story of us.
If you're attending the ACM Central States Conference this fall at WKTV then reserve a space now in the VOICES Airstream to tell your story and incorporate it into your conference schedule.  Just visit https://wktvvoices.org/about/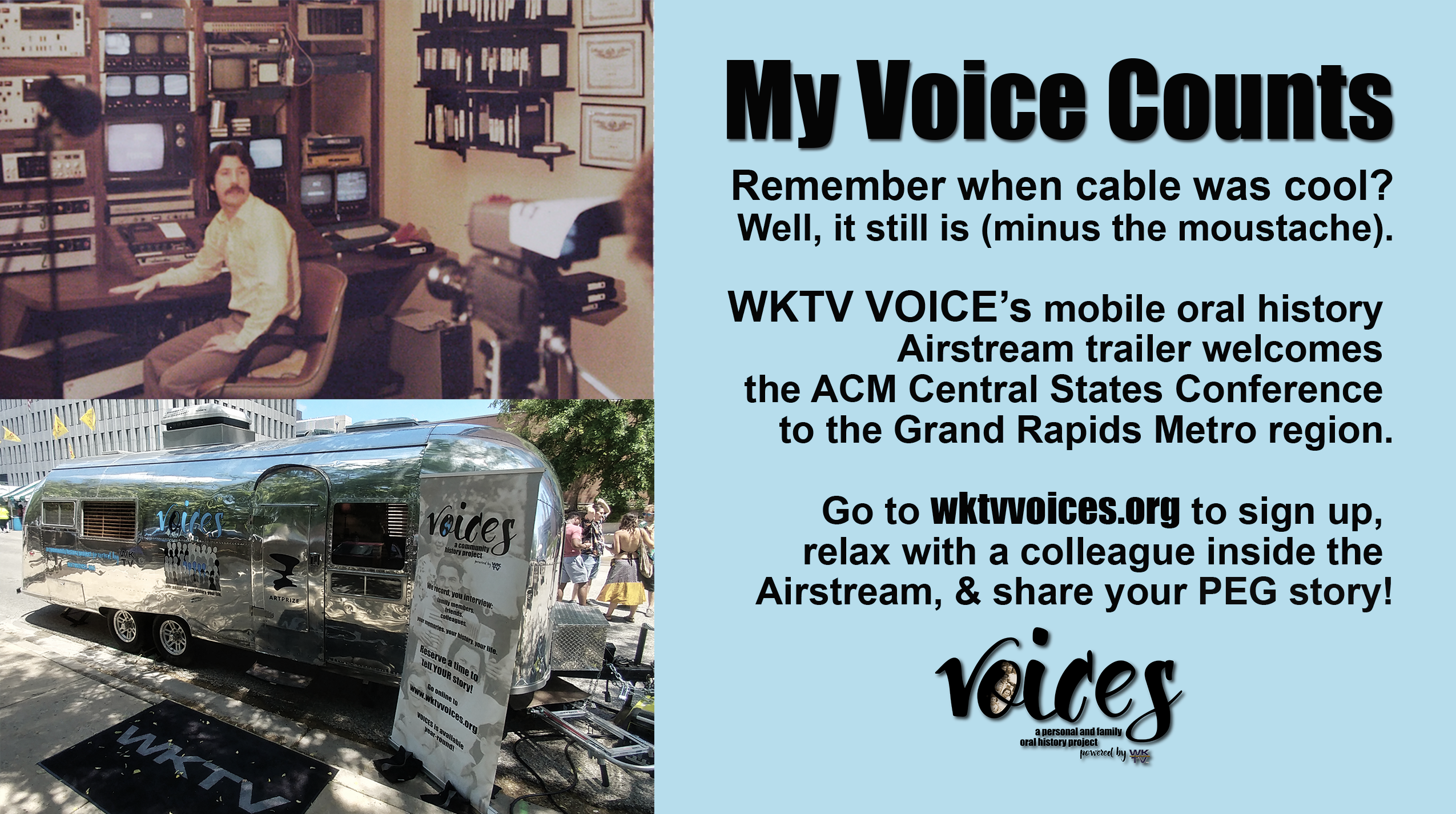 The Central States Region Alliance for Community Media is looking for a Community Media Station to host the 2020 Conference & Trade Show. If you're interested in showing off your facility and networking with like minded people please contact Alysha Schlundt-Bodien by emailing ASchlundt-Bodien@a2gov.org.
#CSACM
Hotel Accommodations- Hampton Inn by Hilton Grand Rapids South:   Individual must books their own reservation. Call Hampton Inn by Hilton reservations line at 1-800-HILTONS or call the Grand Rapids South Location directly at 1-616-261-5500, and mention CSACM to be placed under the room block. Guestrooms will be held until 11:59pm Eastern Time on September 15, 2019. Guestrooms not confirmed by the cut-off date will be released, and additional reservations requested after the cut-off date will be based on availability. Room rate is $118+tax a night for either a King or Double Queen Room. Hampton Inn by Hilton includes complimentary breakfast daily from 6-10am and high speed WIFI.
Booking Link: http://group.hamptoninn.com/CSACM
Session Information: 
Building a Community News and Journalism Operation
Presented by the "WKTV Journal" newsroom staff and GRCMC's citizen journalism project, "The Rapidian."
With the slow death of community based news publications, now is the perfect time for community media centers to step in and fill the void!  While relevancy of your community media facility is the new challenge for all media, nonprofit and for profit everywhere; this seminar focuses on creating a community news or citizen journalism operation. You can significantly increase the relevancy of your community media facility which can aid in building relationships throughout your area.
This workshop will look at funding resources, educational resources for community journalists, using the paradigm of paid staff versus volunteers, operating a newsroom on a daily basis, ensuring cross-platform content delivery and the steps you can take to keep the operation fresh and innovative.
Building a Business with Intentionality: the Story of Little Space Studio
Presented by Alysha Lach, Illustrator and Designer
Creating art access and spaces to learn and grow as a creative isn't just for a non-profit model. What turned out to be an experiment with a small rental space has grown in three years to be something transformative and uniquely valuable for the creatives of Grand Rapids. These are the lessons I am learning as I build a business to serve its community first, and how profit often follows intentional design. This season will help you expand your stations space and grow your membership.
FCC Public Policy & Discussion
Presented by Mike Wassenaar, National ACM CEO, & Mike Watza, General Counsel for PROTEC 
Learn about recent National & State public policy events and information that will affect your stations and what's coming next. Hot topics include; FCC FNPRM, Small Cells, 5G, closed captioning, channel slamming and more!
Marketing Community Media:  Build Positive Impressions While Making Lemonade
Presented by Tom Norton, Executive Director of WKTV 
For decades, community media facilities have relied on word of mouth to market their facility.  It works, but only to a point. Resources limited? Equipment not the best? Not enough cash flow?  You can still achieve positive results; from forming strategic relationships with talented pros to initiatives that discover diamonds in the rough, this seminar can help you re-focus on the assets your community probably has just outside your door.  This seminar also teaches you marketing basics and utilizing multiple platforms in not just getting the word out about the facility, but also building the impression that your community media center is the best game in town.
PEG Doomsday Prep – Remaining Relevant
"What is this? Why does this affect us? Who are you? What are you doing here?"
Relax.
This is a scary time for us here in Public Media but we're all in this together!
The Federal Communications Commission has handed us some pretty tough rulings for us to digest.
Join our final session as we dive into what the recent FCC ruling means for us, how we can navigate it and how we can continue to thrive in the future.
The session will be an open roundtable discussion. Please bring a paper, pen and a business card for networking! 
Podcasting in Your Media Center
Presented  by WKTV Podcast Production Coordinator, Gene Gregory.  Spanning nearly 30 years in radio broadcast as a producer of content for stations throughout the Midwest, Gene joined the WKTV staff in 2012 and now coordinates over
It's everywhere!  It's everywhere! Podcasting is exploding like a supernova across the media landscape.  If your media center isn't doing podcasts yet, find out how you can plug into this new paradigm of participatory media and get going!  In this seminar we will share the process used to set up the very successful podcast service at WKTV. Incorporating new talent; equipment needs, garnering hosts and program ideas, the production process and what to do once the podcast is complete.  The workshop will also touch upon different approaches used to incorporate podcasts across media platforms such as television, social media, news and radio, including scripted fiction podcasting. As a bonus, we will have several of our more popular podcast hosts on hand to share their personal experiences to create successful programs.
If you're serious about expanding your community media universe, this is a workshop you don't want to miss!
Remote Mobile Production – WKTV
Presented by WKTV in conjunction with Ferris State University's Bill Jung and joined by Allan Dodds of Hudsonville Community Media.
Television production still cuts a "presence" when it is on the scene and being on a large scale television "set" whether it's the high school football game, the 4th of July Parade or a special events production is important the volunteers; so it makes sense to invest in "making it bigger." Using Black Magic's ME2 switcher with macros and the Ross Xpression graphicssystem, community media pros Bill and Allan take you through the steps to making it bigger, but better and what pitfalls to watch out for.
Film/Interview Lighting Workshop
Presented by WKTV
Achieve the right look and light on your next interview set with simple tools that can help make every elected official see the value of your operation.
Vendor & Sponsorship Opportunities: 
As we prepare for this exciting event, the Board of Directors wants to extend the invitation to you to join us as a vendor!

Conference vendor packages include ($300 value):
Introduction to your business during the opening plenary

Table/booth space at the conference

Display your company banner for duration of the event

Designated "meet with vendors" time during conference

Access to our attendees list

Company logo and link on website
And we're ecstatic to announce our event sponsorship opportunities! Sponsorship packages include; Gold, Silver & Bronze (pricing varies $500-$2000) and opportunities include:
    Attendees of our events include staff, volunteers and students of Community Media Centers within our four state region; Michigan, Indiana, Ohio & Kentucky. If you're interested in participating in these opportunities, please contact Alysha Schlundt-Bodien at aschlundt-bodien@a2gov.org or call (734) 794-6150 ext. 41506. The CSACM is comprised of four state chapters: Michigan, Indiana, Ohio and Kentucky. It's a network of citizens, professionals and organizations interested in community media issues, technology and content. The conference and trade show cultivates cooperative working relationships with neighboring communities, fosters new ideas among participants and exposes students, volunteers and professionals to new techniques, equipment and technology.

————————————————————————————————————–
The 2018 Keynote Presentation is now on YouTube! The keynote was by David Phillippi who is a former student of Alliance City Schools Media Arts Program. This presentation was during the annual conference & trade show in Alliance, Ohio. Hosted by Alliance City Schools, Channel 1022: Alliance & The Central States Region Alliance for Community Media. You can download the SD version of the presentation by clicking here.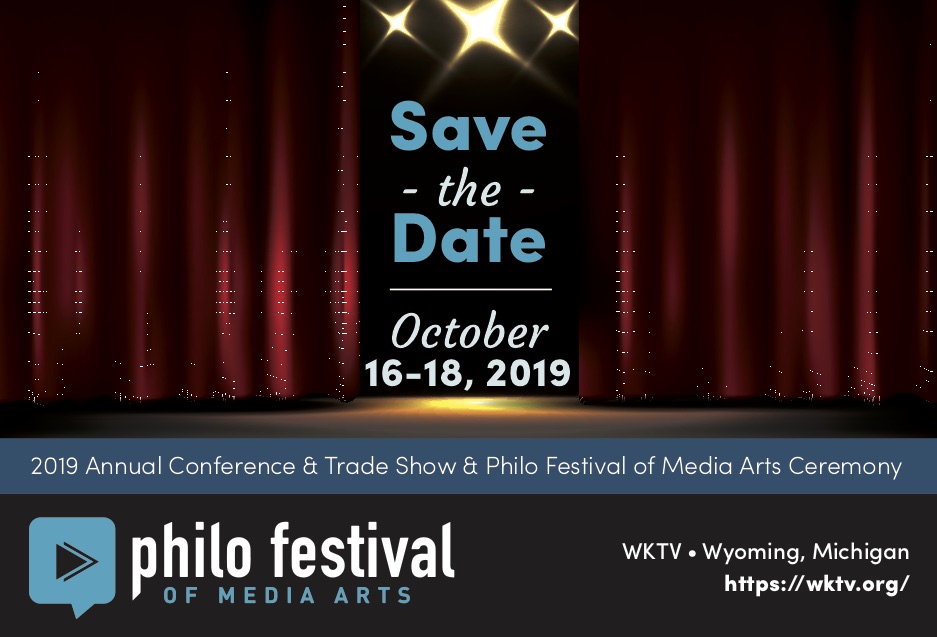 Thank You to Our Sponsors!