The 2018 Conference & Trade show will be in Alliance, Ohio; hosted by Alliance Channel 11. This conference will also feature the Philo Festival of Media Arts Award Ceremony.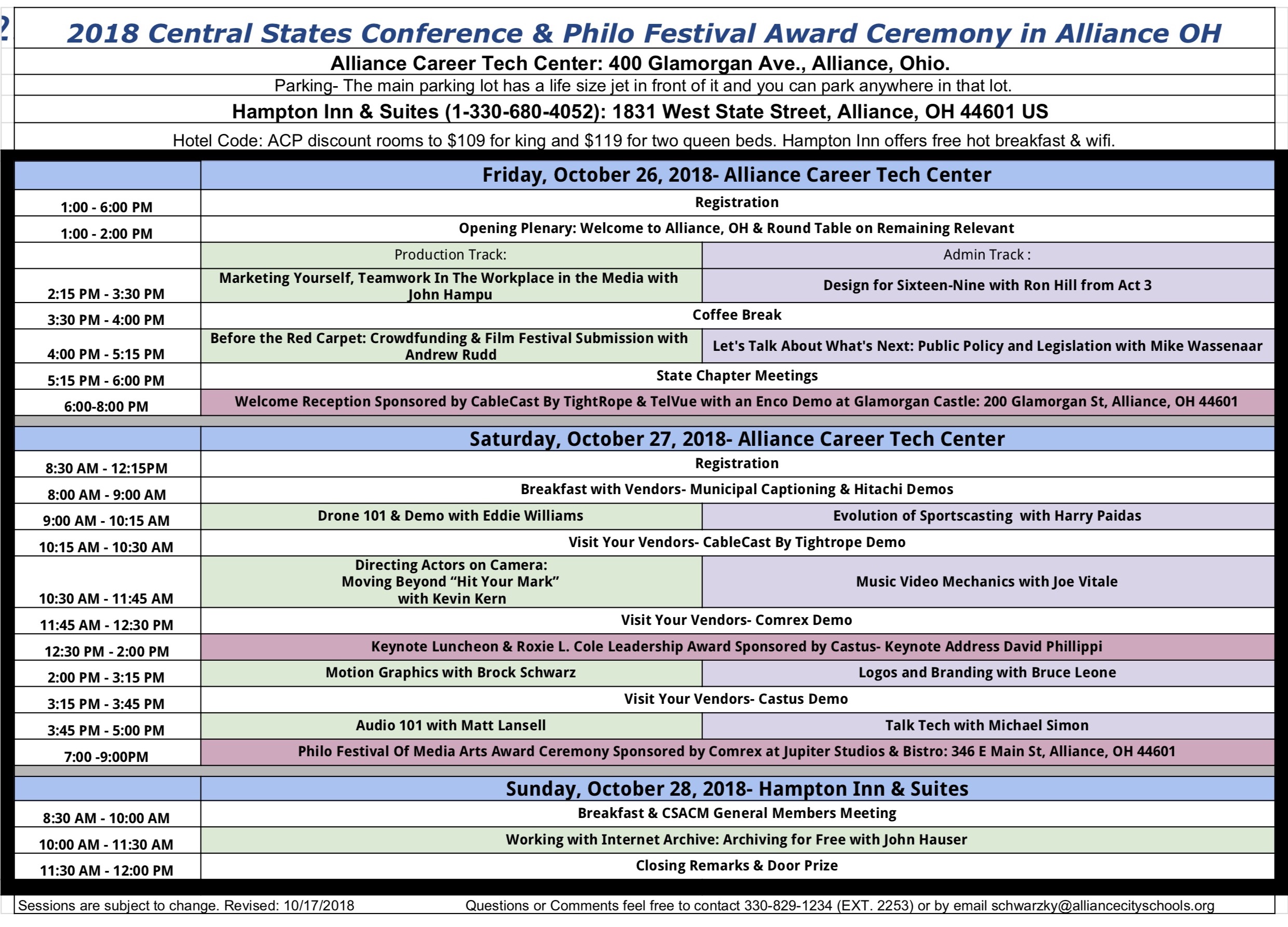 Click here to download PDF
The 2018 Central States Conference & Trade Show will be in Alliance OH at the Alliance Career Tech Center: 400 Glamorgan Ave., Alliance, Ohio 44601.
The Trade Show will be Saturday Oct. 27 from 8am-5pm.
Hotel Accommodations:
Hampton Inn & Suites, which offers free hot breakfast & wifi. Hotel Code is ACP for discount room rates (cut off date is October 5, 2018). Call 330-680-4052 to book your room today!
Hampton Inn & Suites: 1831 West State Street, Alliance, OH 44601 US
Philo Festival Of Media Arts Award Ceremony is at Jupiter Studios & Bistro:
346 E Main St, Alliance, OH 44601
#CSACM #BuildingAlliances
To purchase tickets for the whole conference or an extra ticket to the award ceremony scroll down, under the schedule of event. Questions? Email Aschlundt-bodien@a2gov.org
Audio 101 with Matt Lansell
Are you ready to get away from the mic stuck on top of your camcorder?  Want to try a handheld, lavalier or shotgun mic?  Find out what steps you should take to get the best audio recording possible.  What if that recording still has some issues?  Then it's time for some post production tips.  Audio 101, will cover these topics and more.
Before the Red Carpet:  Crowdfunding and Film Festival Submission
This session will cover the basics of how to run a successful crowdfunding campaign and how to strategically target the right festivals for your film and your filmmaking career. There's not one right way, so we'll talk about different possible strategies. We'll also identify best practices and some of the best resources available for independent filmmakers.
Design for Sixteen-Nine with Ron Hill from Act 3
16:9, the 1920 x 1080 rectangle, is the video producers' de facto canvas. So even though the settings in your camera and editing software probably reflect this standard, there are tools, tips and tricks that can help you break out of the same old box. Join Act 3 in a discussion on developing your own "creative stack" of graphic design tools that will energize your productions.
Directing Actors on Camera: Moving Beyond "Hit Your Mark" with Kevin P. Kern
In this workshop, participants will discover the process of directing actors for film and television.  Emphasis will be placed on understanding the vocabulary of the actor, and  communicating with performers engaged in presenting scripted dramatic material.  This workshop will be beneficial for directors and actors eager to expand their work from live theatre to include the on-camera genres.
Drones 101 & Demo:
Aerial shots have become a normal part of broadcasts. We'll fly into topics from the legalities of flight and support apps to popular drone shots and selecting the right drone/camera for your application and budget. A true primer for everything to get you started or further your education on drones!
Talk Tech:
Let's talk tools and tips to make your content stand out above the rest, while remaining relevant with the newest trends and topics everyone is talking about in Tech. From everything to broadcast tech related, video production and remote broadcast (multi camera) content and getting back to the basics of person to person communication.
The Evolution of Sportscasting:
From the first baseball broadcast on KDKA radio in Pittsburgh in 1921 until the present plethora of podcasts and streams, sportscasting has changed dramatically in its delivery systems.  One thing hasn't changed much in the nearly 100 years of existence – the broadcaster still paints the picture for the listener/viewer.  Learn about the evolution of this fascinating craft and use some of the tips on description and creativity to hone your reporting skills.
Keynote Luncheon & Roxie L. Cole Leadership Award Sponsored by Comrex- Keynote Address David Phillippi
Alliance High School's Career Tech program jumpstarted David Phillippi's career in television and film. During his 30-year career, he's seen and weathered many industry changes. He'll talk about how vocational training formed his foundation in the past and what's in store for the future of public broadcasting and access stations.
Let's Talk About What's Next: Public Policy and Legislation with Mike Wassenaar
Learn about recent National public policy events and information that will affect your stations and what's coming next. Hot topics include; closed captioning, channel slamming and more!
Logos & Branding Workshop
This workshop will be exploring branding's impact and importance across several mediums.  It is one of the most important steps to connecting with your target audience. Since nearly the beginning of time it has been implemented, and as time goes on its place across all mediums becomes even more critical. We will start with an introduction and then go directly into open discussion. Next we would like to have you, the class participants, submit your branding projects (whether existing or new) to the group to discuss the foundations, strengths and possible improvements.
If you are interested in bringing your branding project or idea to the classroom please forward any information or visuals to bruceleone@planetink.com. Please include a phone number for a preliminary discussion.
Marketing Yourself Effectively in the Media with John Hampu
As a media personal; do you have a demo reel, professional social media account and what about a digital portfolio? In this session attendees will discuss information on how today's workplace perceives you and your skills as your career develops in Media Arts and related areas.
Motion Graphics with Brock Schwarz
Motion design is in our everyday lives. This industry is blazing a path of almost endless possibilities. This session will help you understand what it takes to be a motion graphic designer, animator, and artist and how to take the first step on this exciting journey!
Music Video Mechanics with Joe Vitale
Creative ways to look at music video production from pre to post.  Whether you have an unlimited budget or none at all, you can create memorable music videos that will inspire and captivate your audience.  Let's create something!
Marketing Yourself, Teamwork In The Workplace in the Media with John Hampu
In this session attendees will focus on how teamwork and how small group processes impact success in the workplace and American society in general.
Working with Internet Archive: Archiving for Free with John Hauser
This session will cover some basics of working with the Internet Archive
and many details we never seem to have time to get to in my workshops on
Metadata and Archiving. It will be useful for those centers already
uploading their video to Internet Archive; heavy on practical advice and
lighter on theory.
Please give us your feedback!
Whole conference Survey
Session Breakout Survey:
The Central States Region Alliance for Community Media is looking for a Community Media Station to host the 2020 Conference & Trade Show. If you're interested in showing off your facility and networking with like minded people please contact Alysha Schlundt-Bodien by emailing ASchlundt-Bodien@a2gov.org.
Photos from the 2017 Spring Conference & Trade Show are now online. Thanks again to everyone who came out and made this conference a huge success!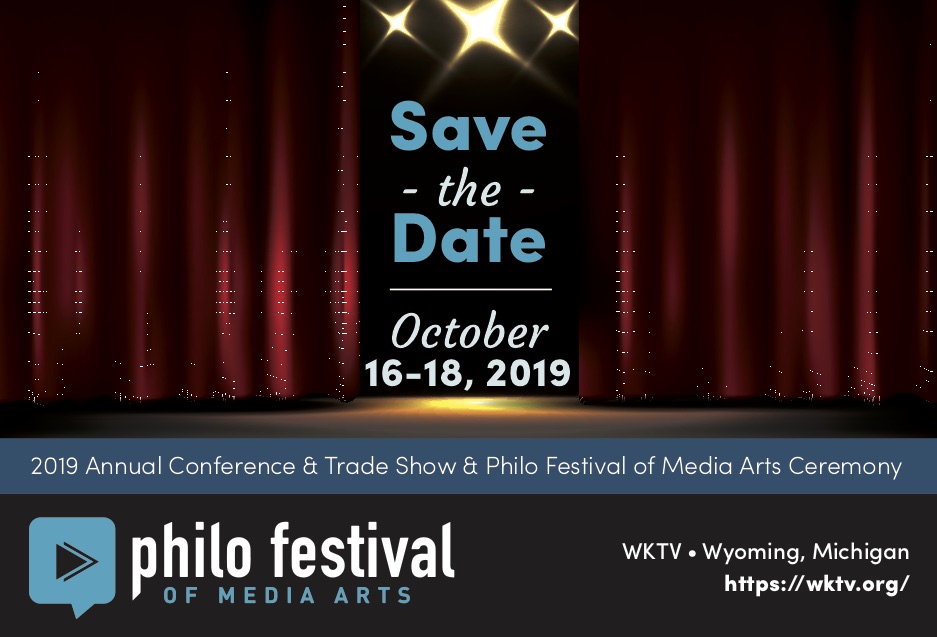 Thank You to Our Sponsors!